As we near the end of the school year our School Counselor, Mrs. Wright, wants to give one final reminder that 8th grade students must apply for 21st Century Scholars by June 30. This is an awesome scholarship program for continuing education after high school, and all that is required now is for the brief application to be filed. Parents/guardians, please take a few minutes today to complete the online application process at
https://learnmoreindiana.org/scholars/enroll
If you are not sure if your student has already completed this, please have your child check their school email. Students who have not applied received an email yesterday reminding them to apply before the deadline. If your student did not get the email, there is nothing else for you to do at this time. Please do not hesitate to reach out to Mrs. Wright if you have any questions. Her email is
swright@randolphcentral.us
.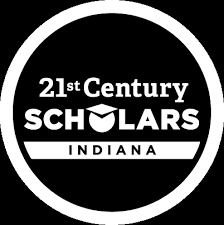 CLICK ON THE LINK BELOW FOR INFORMATION ON HOW AND WHEN TO TURN IN YOUR CHROMEBOOK.
https://5il.co/g1r3

Here is an update on many important questions as we near the end of the year. Yesterday, students were sent a Google Form from Mrs. Wright to select a related arts choice for next year. It is so important that students answer that email promptly so that we may organize a schedule for them. We have had many questions about fundraiser pickup. Thank you for your patience as we waited to follow the rules from the Governor. Fundraiser pickup will be on May 18th from 1-3 PM. Please arrive to door 25 that we use for the athletic entrance. It is by the stairs on the south side of the building. If that time does not work for you, please let us know and we will make arrangements to get your products to you on May 19th. We have a short window as many of the items must be refrigerated and the delivery company must bring them in the afternoon on the 18th. Locker and classroom item pickup at the middle school will also be on May 18th from 10-3 PM. Items have already been bagged and students can pick up these bags at door 25 as well. Please have only one person approach the door and practice social distancing. Students should NOT plan to enter the building. We have attempted to think through items around the building including band and PE lockers and more. If there is something specific you need that may not have been in a locker, give us a call and we will obtain the items for you. If you have items like library or textbooks that belong to the school, please bring them with you at this time. If this time does not work, we can make arrangements for you to get items on May 19th as well from 10 AM to 2 PM at door 25. You should plan to keep your eyes out for more information coming soon about Chromebook drop off. These procedures will be different than what is posed above.

Shoutout to these hardworking DMS students!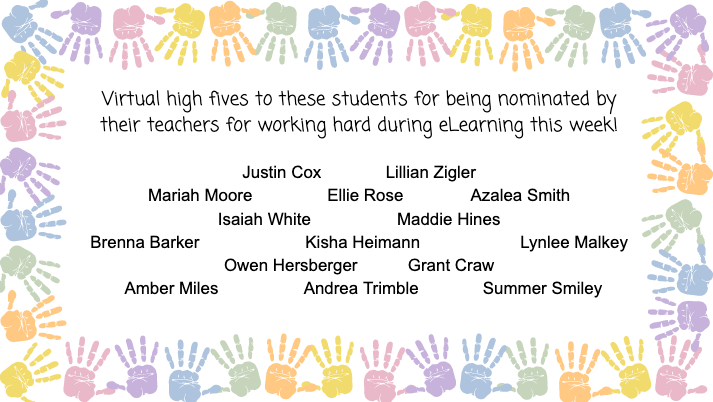 Students, thank a teacher this week! Thankful for the great teachers at DMS!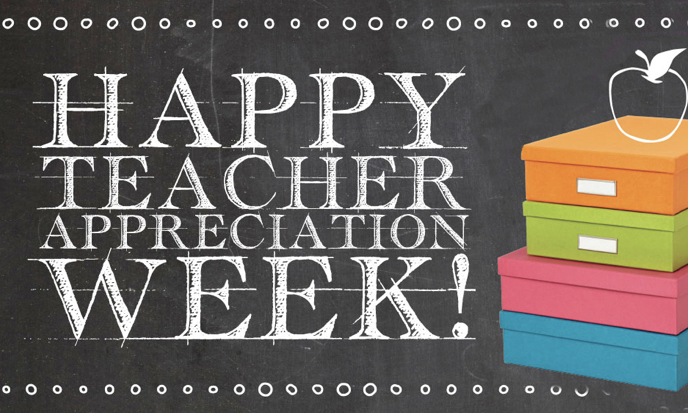 Congratulations to Katie Lash! We are proud of you and are thankful for all you do for our students, staff, and families at Driver Middle School.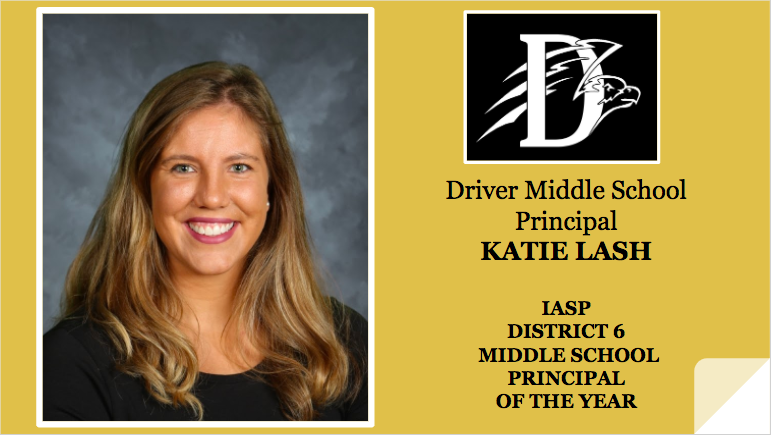 Proud of our students!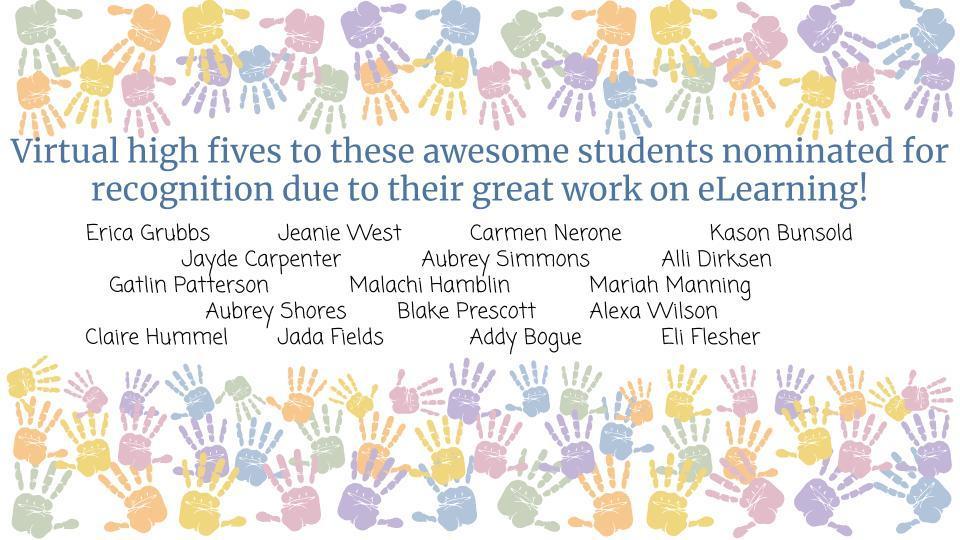 Did you know that the next census is taking place in 2020? Responding to the #2020Census is our civic duty and affects the allocation of funding for our community's public resources, how we plan for the future, and our voice in government. To learn more, visit 2020census.gov.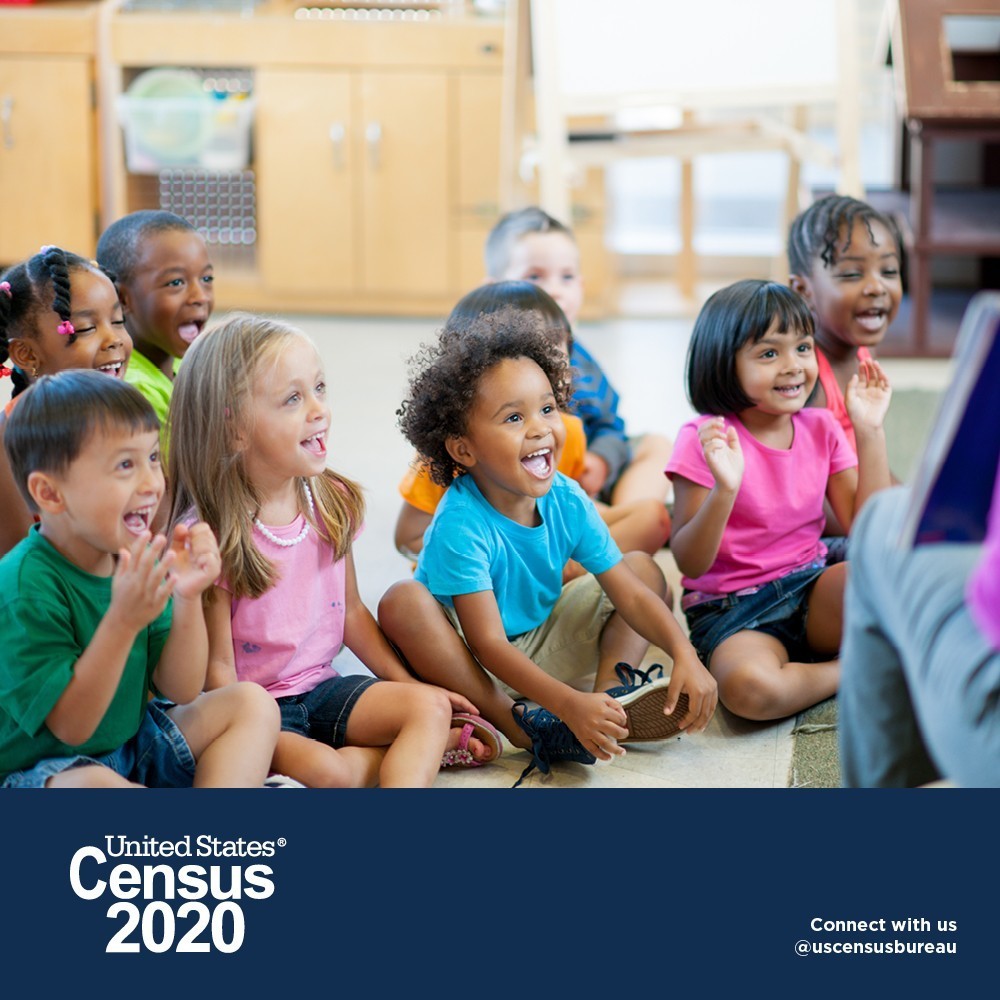 Midterms are being mailed today. We know that many students may be catching up on assignments but this midterm is only an update on progress to keep you informed. Report cards will not come out until May. If you are having any trouble with assignments, please email those teachers directly and they are happy to help! This attachment that explains grading procedures and more is included in the mail:
https://5il.co/f5zi

Please take a few minutes to read through these awesome tips our friends from Meridian Health Services shared with us! We know that staying at home for this extended amount of time is not easy for everyone, so we want to remind you that we are here to support you and your students in any way we can. Please don't be afraid to reach out!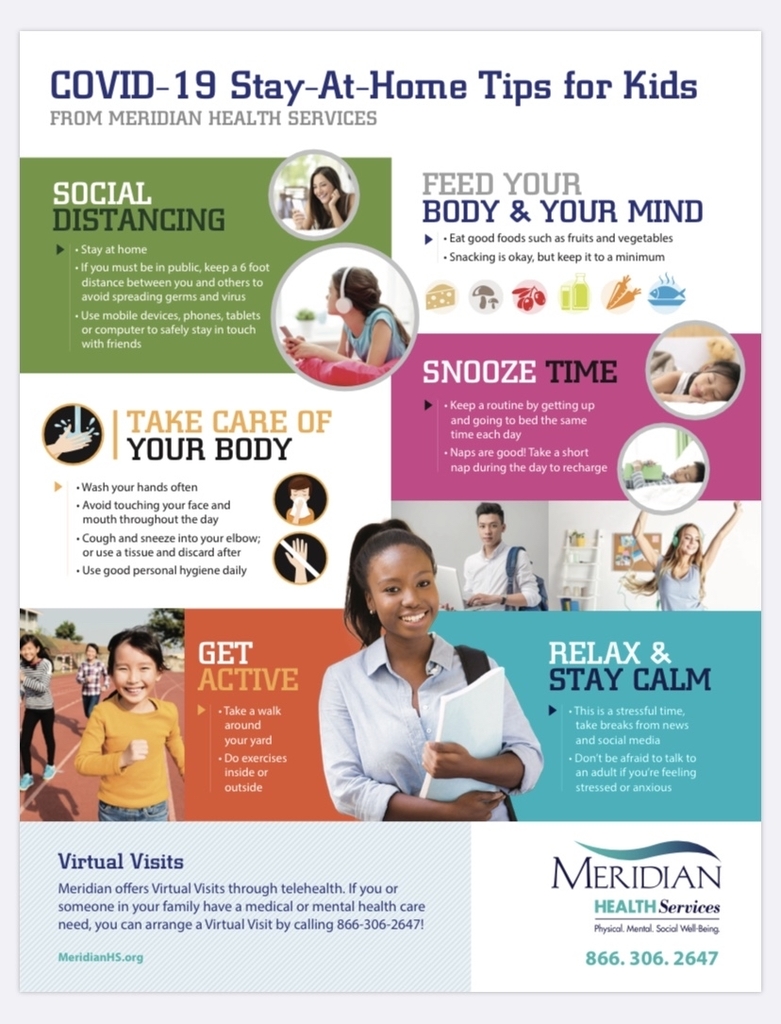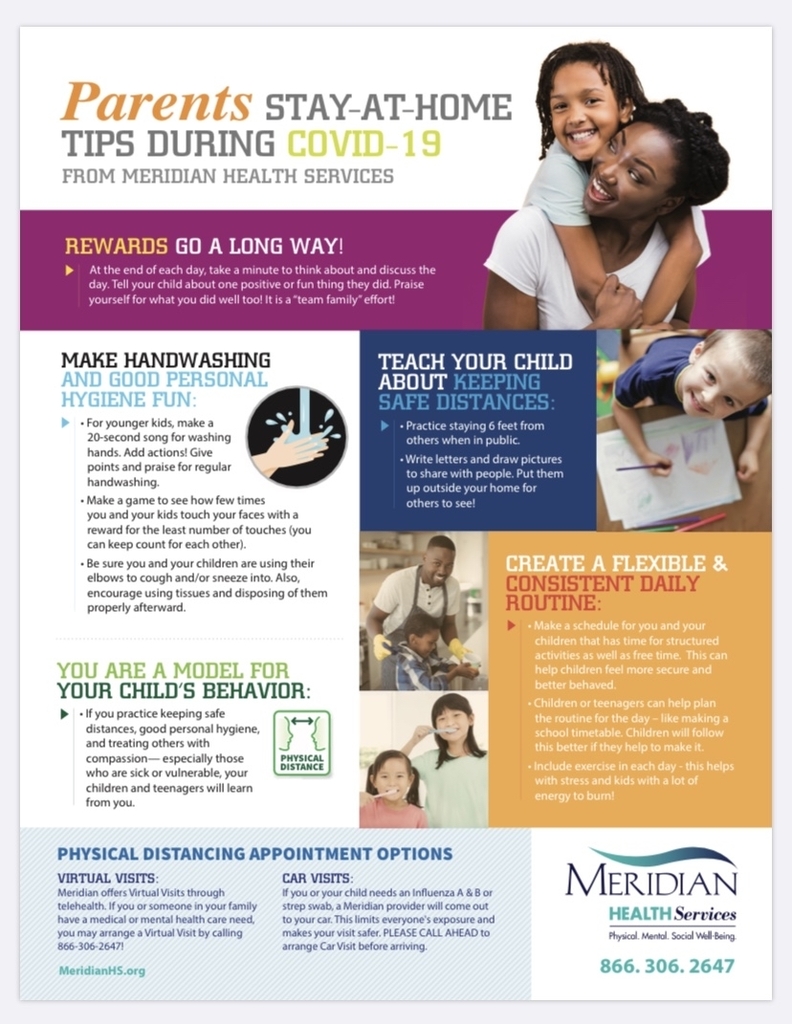 Please take a few minutes to read through these awesome tips our friends from Meridian Health Services shared with us! We know that staying at home for this extended amount of time is not easy for everyone, so we want to remind you that we are here to support you and your students in any way we can. Please don't be afraid to reach out!

Driver families: This is a friendly check in to keep you informed. As you know, we will be continuing eLearning on Monday, Tuesday and Thursday for the rest of the school year. Help us keep students on track by engaging with the school regularly. Midterms will be mailed on Thursday, but know that we want to work with you to keep you updated on your students progress. If you have questions about certain grades, be sure to contact your teachers. Remember that we serve lunch for kids each day from 11-1. We have also had many questions about the fundraiser pick up. We have no updates on this until the governors restrictions are adjusted. Thank you for being patient with us as we navigate this and we are missing your students every day. Families, please know that we are here for all of you. We recognize the efforts you are putting in at home. Thank you.

A note from Mrs. Wright, DMS School Counselor: I have been trying to share some self-care resources with students via email and Instagram since I know that this is a stressful time for many. I came across this article today and thought that this was a good one for parents to read through. It talks about supporting your student's mental health during the pandemic, and in turn about how you can help your own mental health as an adult during this time. Please encourage your students to reach out to me if they are struggling, I am here to help in any way I can! I am also here to support parents, so if you are feeling overwhelmed (or need some guidance on eLearning) please reach out to me.
https://www.weareteachers.com/kids-mental-health-covid-19/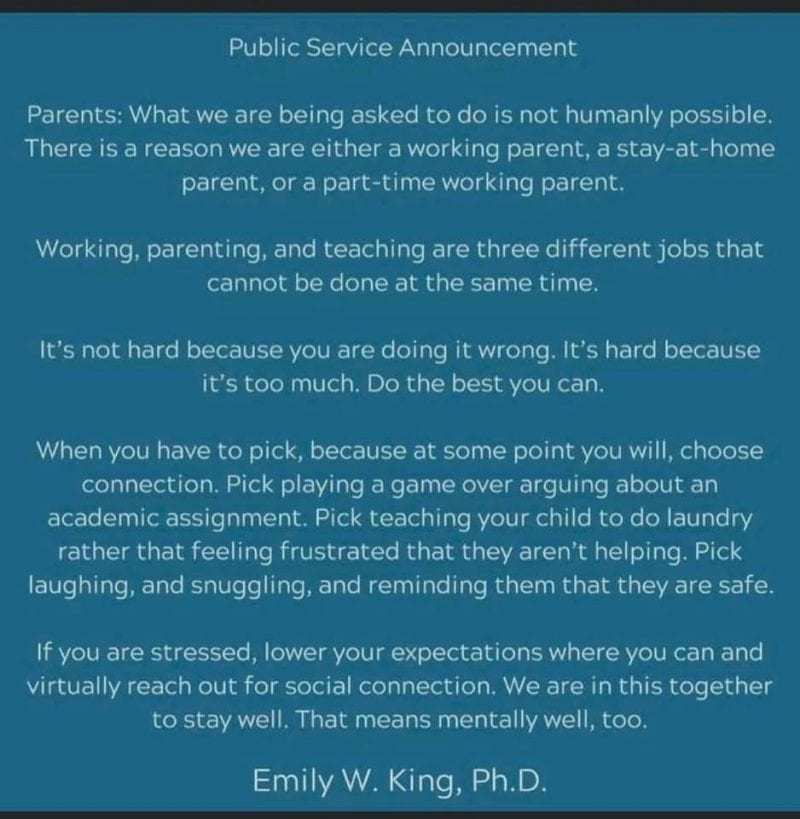 The Governor issued an Executive Order today closing all K-12 schools and requiring each school to continue an extended learning plan that includes 160 student days. Randolph Central will continue eLearning Days on Mon., Tues., & Thurs. of each week. More info coming soon.

A few updates from Mrs. Wright, DMS School Counselor 1. The 8th grade Reality Store has been cancelled for this year. I am hoping we will be able to coordinate this experience for the class of 2024 next school year. 2. I have sent an email to the 8th graders who have not applied for 21st Century Scholars yet. The deadline for this scholarship opportunity is the end of the school year and it is something you will not want to miss out on. Parents - if you could have your students show you the email they received, you will get more details on what the program is about and what you need to do to apply. If your student received the email but you believe you are not eligible, please have them respond and let me know that. You can also get more info at this link:
https://learnmoreindiana.org/scholars/enroll/
3. All students received an email from me about the community service form for their PRIDE certificate. This form is due by the end of the school year and I have not received very many at this time. All DMS students can complete this form (which is attached to the email they received) and return it to me via email or send it to the school in the regular mail. 4. I am sharing a list of apps (pictured) because they are good resources for students to use at home if they are feeling stressed or need to relax. They work for adults too! If your student is having any issues you would like them to talk to someone about, please have them contact me at
swright@randolphcentral.us
or give me a call at 765-584-4671, extension 1020. 5. If you are not currently following the Driver Instagram page I would like to encourage you to do so. I will be posting more tips and resources there throughout this month. Thank you for your time, and I hope you are all staying home and staying safe!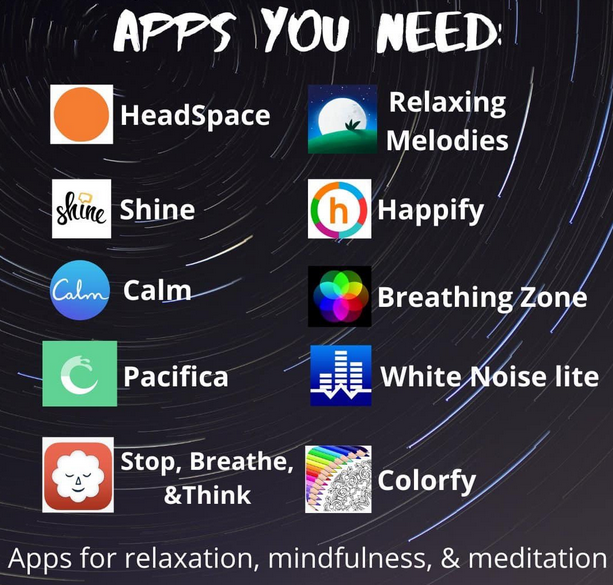 We have been in contact with the fundraising company. Due to the restrictions in place, we still cannot deliver the products until we are told it is safe to do so. Thank you so much for your patience and understanding. Please communicate this with those you sold to.

Randolph Central's Grab & Go lunch program continues this week during our scheduled Spring Break with time extended until 1:00PM. Stop by one of the listed sites for your FREE lunch for everyone 18 and under.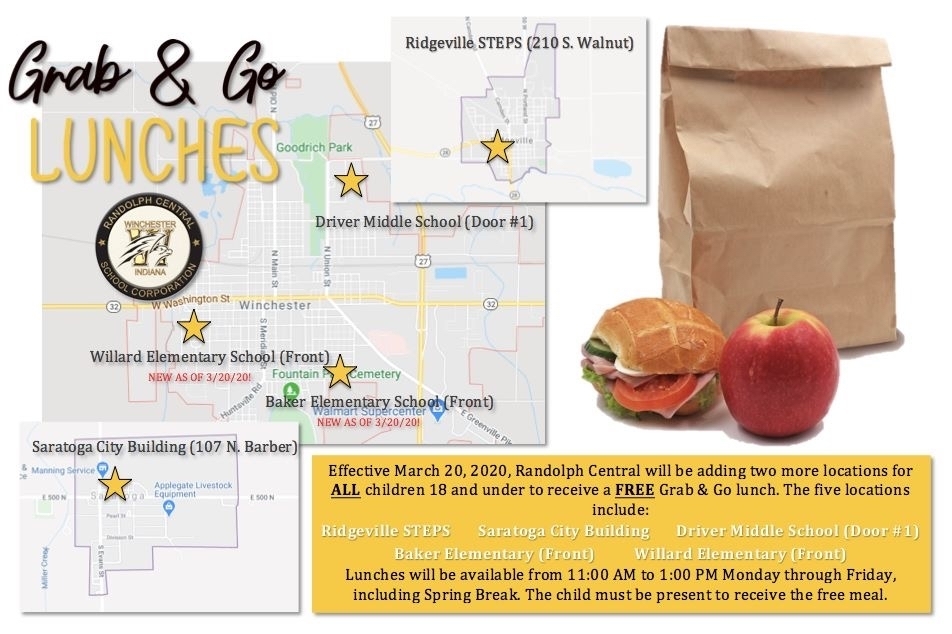 We have had questions about the DC fundraiser. We have been in contact with the fundraising company and are working to come up with a plan that is safe and efficient. We will keep you all updated after Spring Break. Thanks for your patience and understanding in this challenge.

This letter from the IDOE outlines changes in state testing.